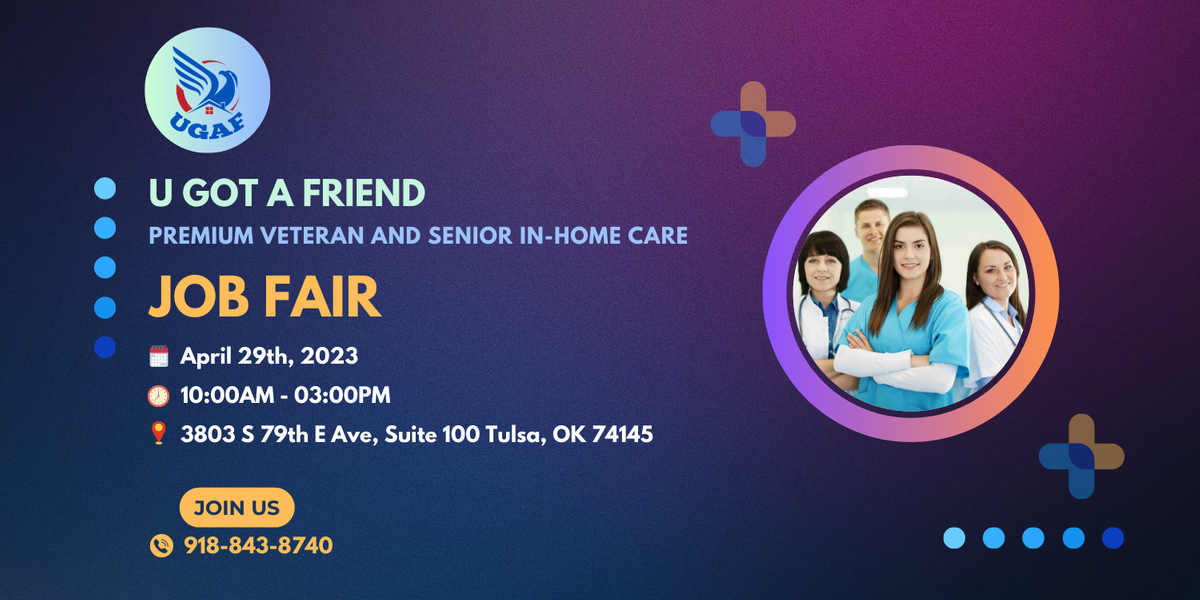 Job Fair
April 29, 2023 10am
You're invited to join our job fair!
We are inviting you to a job fair that will be organized by U Got A Friend (UGAF) Premium Veteran and Senior In-Home Care. Our job fair aims to provide opportunities for PCA, CNA, RN, CMA, and LPN professionals who are looking for flexible schedules, PRN, part-time, and full-time positions.
The job fair will take place on April 29th, Saturday, from 10 a.m. to 3 p.m. at our office location at 3803 S 79th E Ave, Suite 100 Tulsa, OK 74145. Our team of recruitment experts will be available to provide information about the job positions and answer any questions you may have about working with UGAF Premier Veteran and Senior In-Home Care.
At UGAF, we take pride in providing high-quality care services to our seniors and veterans. We are dedicated to ensuring that our clients receive the best possible care, and we understand that it starts with hiring the right people for the job. That is why we are looking for dedicated and compassionate professionals to join our team.
We offer competitive compensation, flexible schedule, PTO with other benefits, and a supportive work environment that encourages personal and professional growth. We look forward to meeting you and discussing the various opportunities available at UGAF Premier Veteran and Senior In-Home Care.
We are also excited to announce that there will be cash and other exciting prizes, along with refreshments, for the participants in this event!
Thank you for your time, and we hope to see you at the job fair!